Ultrasonic Degassing in Molten Metals & Molten Glass up to 1,800° C
Ultrasonic Degassing in copper, zinc, brass, steel, cast iron, gold and silver.
Degassing is commonly performed by one of two conventional methods; we are adding the third one.
Inert gas purging. In theis method an inert gas (Nitrogen or Argon) is blown into the melt in form of numerous small bubbles. Hydrogen dissolved in the melt diffuses into the gas and leave the melt together with the bubbles. The larger the surface of the rising bubbles, the greater the degassing rate.

Degassing with fluxes utilizes solid substances liberating gas bubbles when heated in the melt. The bubbles collect hydrogen dissolved in the molten metal according to the same mechanism as in inert gas purging method.

Ultrasonic Degassing & Grain Refinement in one device. This novel technology combines both techniques.
Grain refining in copper, zinc, brass, steel, cast iron, gold and silver
Fine Grain structure of cast metal per alloys up to 1,800° C may be achieved by the combination of casting at lowest possible pouring temperature with high cooling rate during Solidification. However small additives in the molten metal enhancing nucleation of the forming crystals may produce further decrease of the grains size.
Many copper alloys contain nucleating additives as major alloying components (aluminum, zinc, etc.,). For grain refining of molten metals and high metal alloys small additions of lithium, iron, lead or bismuth are used. Boron and zirconium produce grain refining effect to tin bronzes.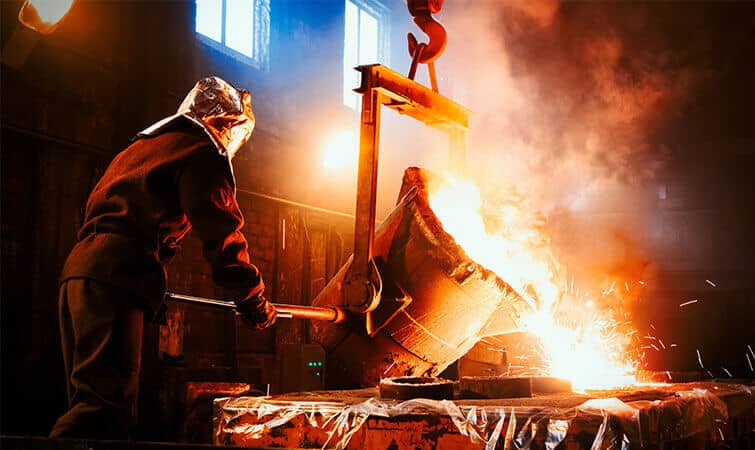 01.
100% Satisfaction Guarantee
After thorough assessment of your ultrasonic project, we will initially participate for 50% in the total cost of the project.
02.
Highly Professional Staff
Our highly qualified Staff has a more than 30 years experience and expertise with high temperature sonotrodes and in-house developed industrial ultrasonic generators.
Each foundry, cast house or glass refiner is different. We therefore work with you from design up to delivery, implementation and after sales. You never walk alone!